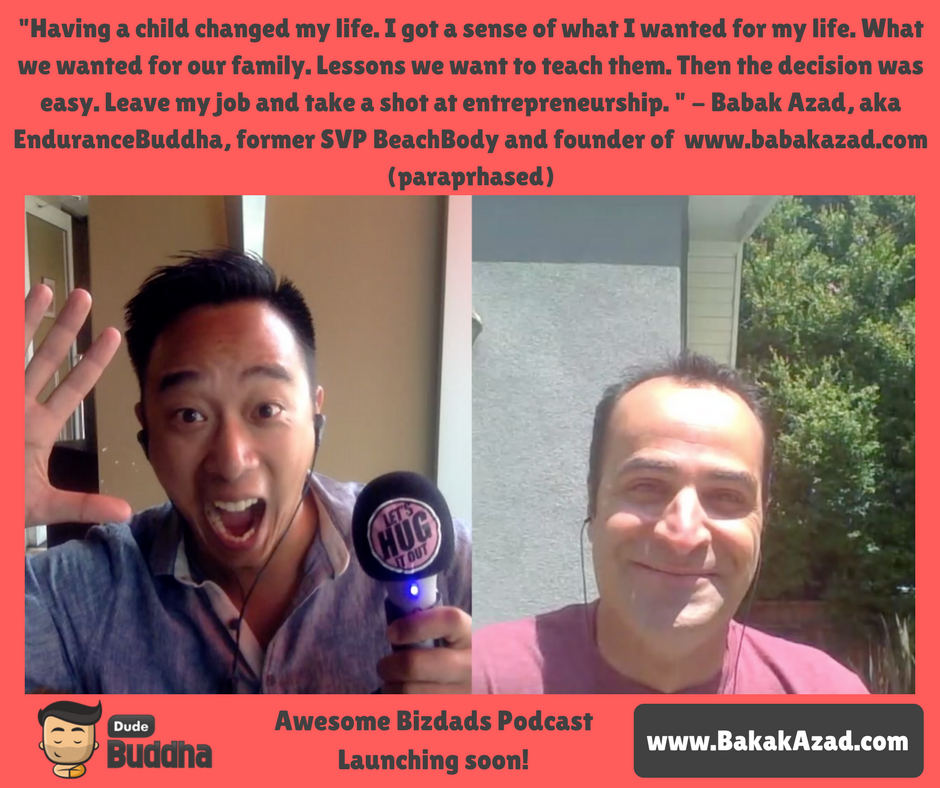 Babak Azad shows us how one can show up as oneself. Real deal. Straight up…and ready to share not only the wins in his life…but also epic failures we can all relate to and learn from! Here are some lessons I learnt from this brave share by Babak!
** how children has impact what is truly important
** The thought pattern when considering to leave a job
** Steps required to transition out of a job and into entrepreneurship
** How opportunity is never JUST delivered to you. So what do you have to do?
** Milestones/goals versus process
** What you need to build if you're going to go on your own
** The myth of having control
** How Babak got comfortable and also believed in being transparent and vulnerable
** The importance to just sitting down and talk through things
** The desire to affect your future in the most intentional way
** The evolution of masculinity, fatherhood and how they are connected
** Learn about Mindset of Freedom vs Toys
About Babak
Babak, aka EnduranceBuddha, is the former SVP of Media & Customer Acquisition at Beachbody where he helped to 10x the business from an already-substantial $100 million in revenues to over $1 billion in revenues when he left in 2015.  Now Babak works with brands building their performance marketing campaigns and business. Typically working with e-commerce subscription businesses over $20 million in revenues, who want to accelerate the next stage of their company's growth.
Resources
Website: www.babakazad.com
Emai: babak@babakazad.com
Social media: @babakazad
Connect with me! Would love to hear from you!
Facebook – 
The Dad Edge
 – Real Dads with Purpose (by Larry Hagner – founder of The Good Dad Project Podcast and the Dad Edge Alliance Mastermind)