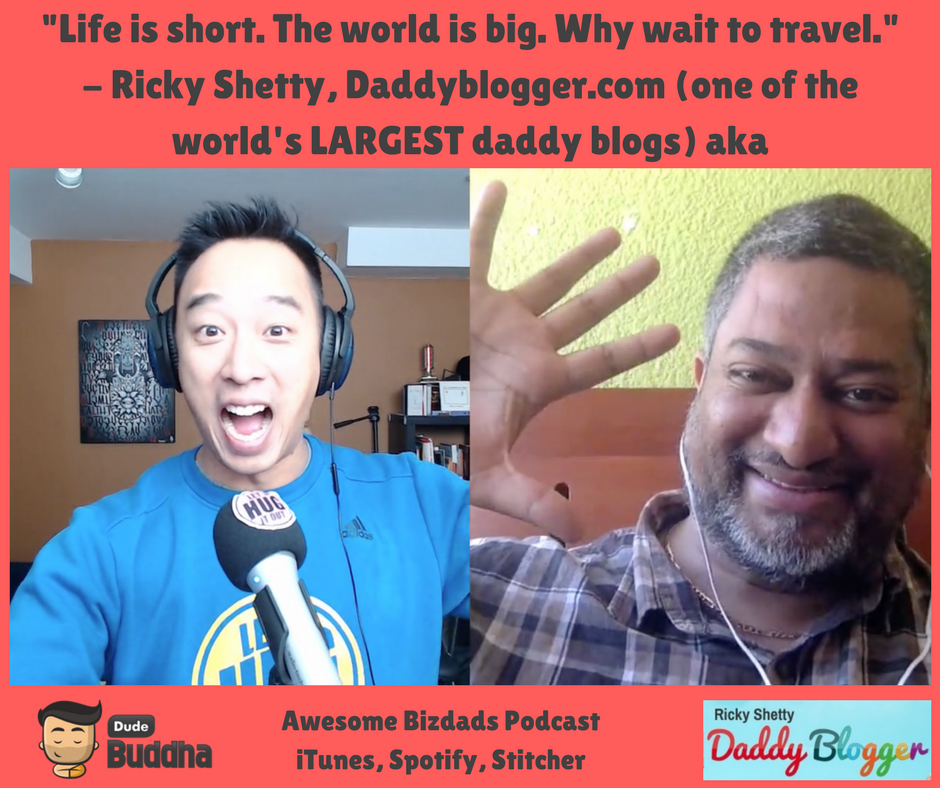 Are you a father who has a desire to travel the world with your family. Our guest today, Ricky Shetty, unloaded his successful, yet location-dependent business in order to travel the world with his family and he shares his 4 steps on how to do it while sustaining yourself.
Among many amazing things on travelling, some other lessons I've learnt include:
The impact of suburbia on a bizdad with at least..the travel bug!

How a single choice determines going deeper into depression or living life fully

The challenges and process of letting go

The mind-blowing lesson Ricky learnt about the materials we own

Life is short, the world is big. Why wait to travel? (social post-able!)

When do we know the timing is perfect…

How to incorporate date nights during travel
About Ricky
Ricky Shetty is the owner and operator of Daddy Blogger, where he writes about parenting from a father's perspective with a big emphasis on family travel with young kids. Currently, Ricky and his family are on a 1 year Round-The-World Trip visiting Asia, the Middle East, Africa, South America, and Central America.
Ricky Shetty was born on Feb 12, 1977 at Richmond General Hospital in Vancouver, Canada. He grew up in North Vancouver attending Lynnmour Elementary School and Windsor High School and then graduated with a BA in Psychology from the University of British Columbia (UBC). In his early 20s, Ricky developed a passion for adventure and travel after living in London, England and backpacking around Europe.
After University, Ricky went to Tokyo, Japan to teach English (hence, the "tokyoricky" username on his email and various Social Media platforms). After Japan, Ricky traveled through several countries in Asia for 2 years before arriving in Sydney, Australia to study Theology at Hillsong Bible College. Ricky did both a Bungee Jump and a Skydive in New Zealand to satisfy his passion for adventure!
In 2008, Ricky returned to Vancouver, Canada where he worked as an ESL Teacher in Downtown. In 2010, Ricky met the love of his life, Anne, on the Greeting Team at Coastal Church. He planned and orchestrated one of the biggest proposals in Vancouver history with a huge flash mob at YVR as Anne arrived home from the Philippines. The proposal made the Front Page of The Province.
They got married on the beautiful Wedding Yacht on Canada Day (July 1, 2011) and had an incredible honeymoon cruise to Alaska. On May 16, 2012, their beautiful baby daughter Dianne was born at St Paul's Hospital. Ricky launched his website Daddy Blogger on Dec 1, 2012 at midnight with the purpose being to change the world…one dad at a time. On Nov 2, 2013, Ricky & Anne's son Ryan was born at BC Women's Hospital. On May 5, 2016, their third child Renzo was born at Burnaby General Hospital.
Ricky is the Amazon Best-Selling author of a book about fatherhood called "Wisdom from Daddies" which was released globally on Father's Day (Sunday, June 16, 2013). The book contains the collective wisdom of over 100 dads from around the world on issues that every dad faces during their journey through fatherhood.
Ricky used to produce a series of Conferences, Workshops, and Events in Vancouver, Canada about Social Media, Blogging, and Internet Marketing. However, in late 2016, Ricky and his family decided to follow their passion to travel the world. On Dec 6, 2016 they started their 1 year Round-The-World Trip that will take them to Asia, the Middle East, Africa, South America, and Central America.
Ricky is happy to do speaking engagements, media interviews, book signings, press trips, and product reviews. We are major social media and blog influencers who practice lifestyle marketing (promoting your companies products and services through everyday lifestyle pictures and videos).
Resources
Website: www.daddyblogger.com
Email: ricky@daddyblogger.com
Connect with me! Would love to hear from you!
Facebook – 
The Dad Edge
 – Real Dads with Purpose (by Larry Hagner – founder of The Good Dad Project Podcast and the Dad Edge Alliance Mastermind)