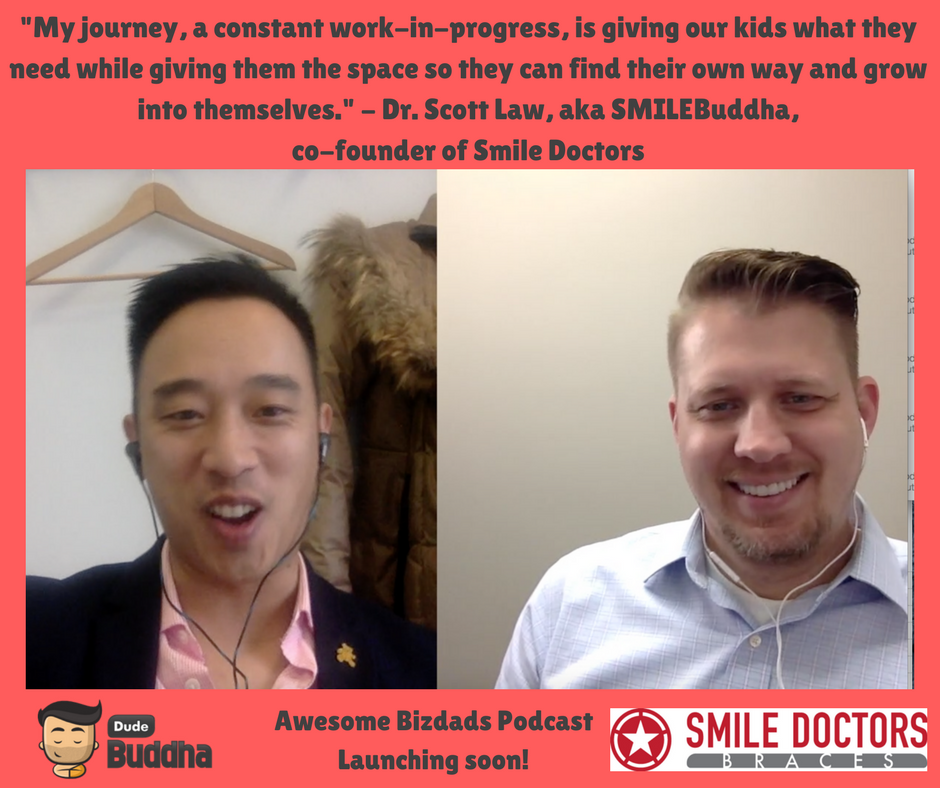 Imagine a dental practice with a karaoke room. Well, Dr. Scott Law did just that and that is just an example of how awesome and brilliant of a bizdad he is. (is that even grammatically correct!?) Here are a few things I've learnt from our chat!
** balance of giving them what they need and giving them the space to find their own way
** raising your kids with the proper amount of neglect
** The CLOTHING challenge
** Why Scott decided to start homeschooling
** A major lesson Scott learned from his hardworking father about how to be a good boss and leader
** The power of transparency within a company and at home…and  how lives can change because of it.
** The importance of a workspace that you love and karaoke!
** The importance of culture and mission statements at home and work…and aligning hearts
** Where does marriage rank in the relationships within family!?
Learn more about Scott Law
Dr. Scott Law, aka SmileBuddha, is a wet fingered orthodontist charged with overseeing the clinical processes and responsibilities as the Chief Clinical Officer for Smile Doctors, an orthodontist owned orthodontic group.  After completing residency at Jacksonville University School of Orthodontics in 2009, he and his wife Jessica purchased a small practice from a retiring orthodontist in Killeen, Texas.  Using techniques based on customer service, fun, empowerment and excellence they grew that location to one of the largest practices in the U.S.. Looking out on the horizon in 2015 and seeing the threats and opportunities facing orthodontics, they decided to scale their business based on the principle of Love On People First.  In 2015 Scott partnered with Dr. Dana Fender​ and CEO Scotte Hudsmith to form Smile Doctors with has grown throughout the US currently with over 100 orthodontics only practices.
RESOURCES
Connect with me! Would love to hear from you!
Facebook – 
The Dad Edge
 – Real Dads with Purpose (by Larry Hagner – founder of The Good Dad Project Podcast and the Dad Edge Alliance Mastermind)