Sharing Wicked Growth Hacks for Biz Dudes who Aspire to Become AWESOME DADS ... and really, anyone who feels they can learn from me! :P
Initiated because I want to leave something so my son can get to know his daddy, I launched this personal channel where I share lessons as a biz dad as well as from other AWESOME biz dads around the world, aka DudeBuddhas.

The CRUMBLING of my business and personal life when my marriage fell apart made me face the question of... to be or not to be. Yes, I was depressed.

Choosing "To BE...ALIVE!"... I sought and gained some great advice, experimented with growth strategies while re-building my businesses. I share these hacks here on all the successes and failures I've achieved. Struck a few times but I'm on base! My English is not perfect, but the lessons may be just what you are looking for.
Nearly done... just enter your details below to get your free guide...
Get my tips and strategies for the DudeBuddha life! Early Access, surprises and exclusive content. Bouts of DudeBuddha inspiration, wisdom and more!
Always 100% Secure.
Biz Dad

Sharing some wicked business and leadership hacks because DudeBuddhas know that Great Leaders make Great Dads! Learn how to spend your time with kids in a way that can grow your business!

Fit Dad

Preventing that gut, heart, lungs, mind, spirit and everything that seems to be falling apart from uh…falling apart, while learning ways to teaching and inspire our kids to be active and happy!

Dude Dad

A dude these days face the big question of… what the fuck is the modern man? Wimp? Sensitive? Less..uhhh..manly? There has been a surge of support for men because it's become apparently, quite complicated? Really? Men? I've learnt some great lessons here and myself and others. Let's rock dudes.

Dad Cave

Really, I have stuff I'm going to share that has no category. Rather than creating more, I'm going lump this all into the Dad Cave. From electronics innovations to better daddy-hood to random tips and tricks to be an awesome dad to literally whatever. No clue..but I'm sure I'll be sweeping a few in here!
My Son is my Greatest Teacher
I remember the day I woke up in bed in a panic wondering if my son was ok. He never slept through the night without at least one random scream. I rushed over to his room only to see him sitting up, playing with his stuffed animals and smiling. Then he said, "papa." That very moment, I promised I would never give up on me again, for him and for me. Then became the evolution of me that ended up inspiring and connecting me with so many awesome people. In particular, dudes who would come up to me for advice on business and fatherhood. I call these dads, the DudeBuddhas - awesome as biz dudes, awesome at engaged dads.
My name is Tuan Nguyen. Fellow DudeBuddhas call me the Gangstabuddha because I take spirituality and bring it down to the streets...yo! Read to for the DudeBuddha lifestyle?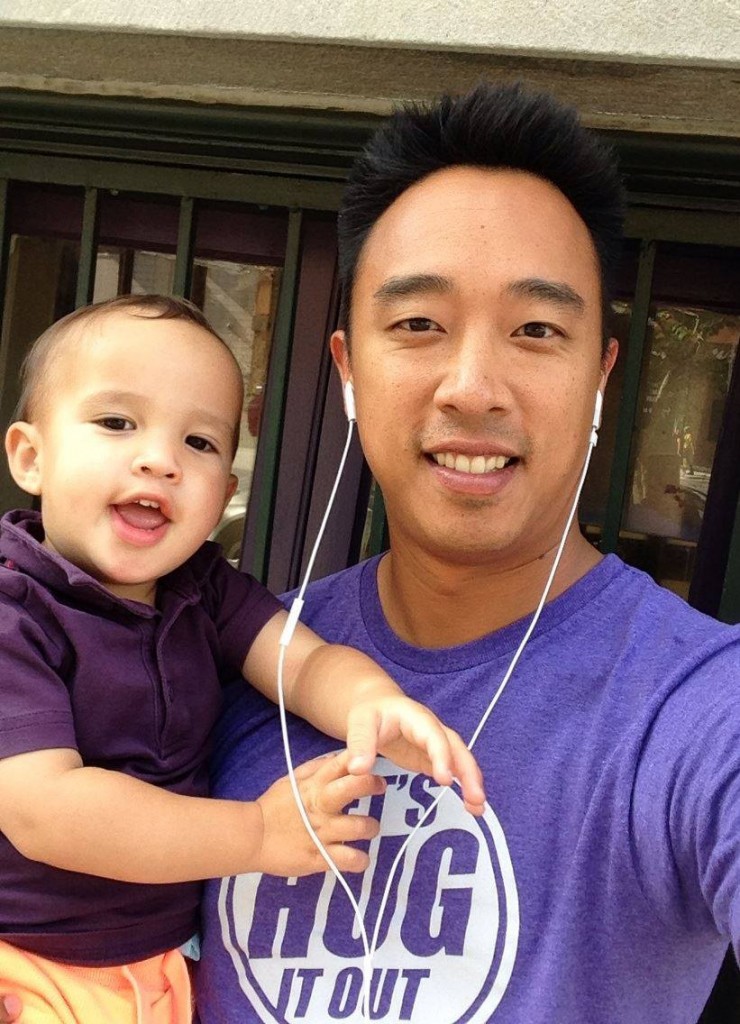 I fell on my ass...badly
Googling me, you'll see some good shit. Making millions. Raising millions for charity. Public speaker. Lots of good shit. HOWEVER, not a whole lot on my depression that was unavoidable when my marriage fell apart with a infant in our lives. My empire crumbled as I crumbled and took it to the ground. Left with zippo..in fact, a crap ton of debt.
What I thought was the DARKEST moment, was actually what I call, my SPOTLIGHT moment, where I had no where to go but face myself. And after lots of help, talking to hundreds of friends plus some professional help, I rose in my spotlight moment and went through 3 main steps!
Searched the crap out of myself and resolved some deep stuff
Designed my life the way I want it. Biz is just a PART of my life. Not the other way around.
Launched a newfound entrepreneurship life around purpose and meaning.
What happened since? I am now more successful than ever before, yet, I'm not "hustling" in my business like I used to. I spend a TON of time with family and myself.
What's NEXT?
Well...I need to get in better shape. Learn how to better handle a growing and busy son. Learn and develop the best HACKS so my business can grow without sacrificing time for my family nor me! This is the path of the DudeBuddha!
DudeBuddhism
Wisdom defined by the collective experiences and knowledge of the dudebuddhas. Proper English is also not a requirement in this cult of ours. Authentic expression is.
DudeBuddhas are siccckk entrepreneurs who heart-centred, purpose driven and understand that you can make a big difference and big fortune all at the same time.
DudeBuddhas are forward-thinking leaders that take all that weirdo spiritual shit and apply it to every day business 'cause it fucking works.
DudeBuddhas are wicked awesome biz dads. Period.
Check out the video below to how DudeBuddha was born!